Back in early 2019, a number of sets were released based on Avengers Endgame, one of which included the Iron Man Hall of Armour. I use the term 'based' very loosely as almost all the sets had very little to do with the conclusion to the Infinity Saga. But that particular set really stood out as it played no part of Endgame. Instead, it was a fan-pleasing way to finally recreate Stark's workshop in LEGO® form. Over a year on, it would seem the Hall of Armour was popular enough to get an unofficial 'official' extension. The Iron Man Armoury isn't billed as an extension of the Hall of Armour, but follows the same design and can easily be added together to create a much more impressive place for Tony to tinker. So ahead of its global release on August 1st, let's take a look at the Iron Man Armoury.
Product Description
With 2 enemy intruders to battle and a super-cool hot rod to drive, LEGO® Marvel Avengers Iron Man Armoury (76167) provides superhero fans with a versatile playset packed with imaginative role-play possibilities.
Iron Man adventures with cool weapons and a hot rod
Inspire kids to build, imagine and act out open-ended stories with Iron Man, the popular superhero from the Marvel Avengers movies. With 2 bad guys, a souped-up car, 2 awesome Iron Man suits, minifigure, mini Iron Man prototype trophy figure and a cool buildable setting, this dynamic and multifaceted playset provides all a young superhero needs for action-packed role-play adventures.
Set Name: Iron Man Armory
Set Number: 76167
Pieces: 524
RRP: £24.99/$29.99/29.99€
Measurements: armoury measures over 8cm high and the hot rod 10cm long
Minifigures: Tony Star, Iron Man Prime, Iron Man Prototype, and 2 A.I.M. Agents
Availability: August 1st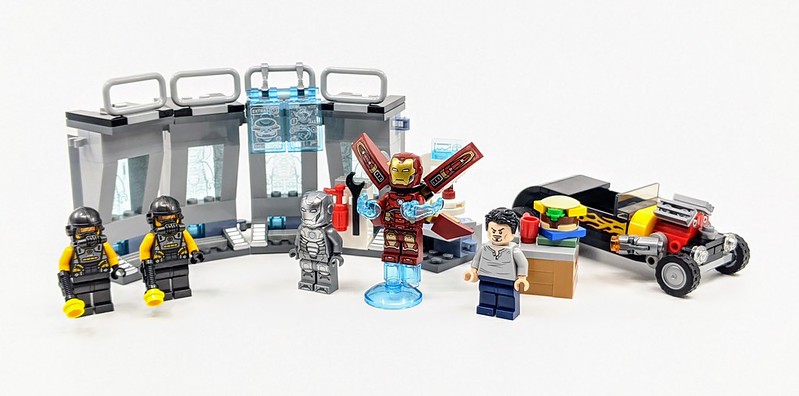 The Set
It's safe to say that Tony Stark has played a central role in the Marvel universe in recent years, especially as part of the MCU. One of the areas most associated with the character is his workshop, which includes his collection of Iron Man suits. Much like the similar Hall of Armour set, this isn't based on a particular moment from a Marvel movie or comic, instead, it's inspired by them and also the upcoming Avengers video game. So the set includes a four-piece bay for suit storage, a miniature prototype suit projector and Tony's flame-licked hot rod car. There are also five Minifigures including Tony, two different Iron Man suits and a pair of A.I.M agents.
The armoury makes up the bulk of the set, with four separate bays each connecting together. Each of these sections is built in a similar way. The only differences between them are the blue transparent window panels. These each feature a sticker of a different suit of armour. Two are included with this set. With Proto War Machine suit found in the most recent Helicarrier set and the Blazer suit, which appears in the new Avengers Tower set. Although these are stickers, they look good and are easy enough to place on the panels. Just be really careful to place it straight and watch where your fingers go as peeling off the sticker and fingerprints will leave a noticeable mark. As the design of these bays is modular and matches that from the Hall of Armour, it can easily be combined with that set or an additional versions of this one to create a much bigger and detailed workshop.
Separate to the armour bays is a crate labelled Tony's Toys, although there is nothing inside the crate, it acts as another work surface. Here you'll find a fun nod to Tony's love of cheeseburgers. Something also featured on a pair of flip-down screens on the armour bays. There is also a black hotrod car. This appears in the first two Iron Man movies, most notably being the only car Tony keeps once his vast garage becomes his Hall of Armour. Despite the small scale of the car, it's a decent recreation of the one featured in the movies. With a mainly black body, exposed engine and flame decals running along each side of the car. The only odd thing about the build is the two stud shooters, which I assume are meant to be exhaust pipes. It's just difficult to look beyond their original use, especially on such a small build. Still, the overall look of the hotrod is quite cool.
The Minifigure
There are five Minifigures included with the set. First up is Tony Stark in his civilian outfit, this isn't very exciting but it's always nice to have a standard Stark Minifigure. His face print includes a normal expression and one with the J.A.R.V.I.S./F.R.I.D.A.Y. overlay. Two of his suits are featured, they both have clear headpieces but you can place Tony's headpiece in there if you wish. Armour variants include the classic grey Prototype suit, along with the Prime suit. The Prime suit made its debut in Endgame and features a Lightning Refocuser, which played a key role in the epic battle with Thanos. This is built on a special neck-mounted element. Both Iron Man suits use the newer single piece helmets. I wasn't sure if I like them compared to the version with the lift-up faceplate. However, they have grown on me.
As mentioned above, although the set is clearly influenced by the MCU movies, the inclusion of two A.I.M agents is more tied to the upcoming game. These faceless goons have the exact same design and feature the classic yellow and black colour scheme, closely associated with the supervillain organisation. Although the classic biohazard suit design has been vastly toned down, the Minifigures have a nicely updated essence of them.
Overall
It was a surprise that it took so long for Stark's workshop to be turned into a LEGO set when the Hall of Armour was released last year. And it's equally surprising that this set is essentially an expansion for the Hall of Armour. Yet it's a great little set on its own. I like the panels which feature the blueprint style images of the suits, I also love that you can fill the empty gaps with suits from other sets. The hotrod is a cool little addition and looks very much like the vehicle which has inspired it. I also really like the mini Iron Man nanofig, especially as a bonus you get a spare one. Despite the set not explicitly declaring what it's connected to, there are clearly major influences from the movies, and because of this, the A.I.M agents feel a little redundant. I would almost have preferred another Iron Man suit in their place. It may lack play features but this makes it a much more appealing for older LEGO fans who wish to create a display piece. If you own the Hall of Armour then this is a must-have addition and even if you don't, it's a great little set.
Coming August 1st: UKIrelandUSCanadaGermanyDenmarkAustraliaNew Zealand
Set 76125: Hall of Armour is still available and makes the perfect companion piece for this set. Both sets can be combined to create the ultimate LEGO version of Tony Stark's workshop and armour collection. Check out my review of the Hall of Armour set here.
Available Now: UKIrelandUSCanadaGermanyDenmarkAustraliaNew Zealand
By clicking on affiliate links within this article, BricksFanz.com may earn a small commission. This in no way influences our opinions or shapes the content we cover.