My review of the upcoming LEGO® Marvel Iron Man Armoury proves to be popular so I decided to brave various spiders, cobwebs and possibly ghosts, to dig out the Hall of Armour set from last year, from deep with the brick-filled attic. As I mentioned in my review this new set is the perfect companion for the larger Hall of Armour set. Both are inspired by Tony Stark's workshop as seen in the MCU Iron Man movies. Although it's (oddly) not suggested that the sets can be connected together, the core of each set is built in exactly the same way. So just as Tony tinkers in his workshop, I've also tinkered with sets 76125: Hall of Armour and 76167: Iron Man Armoury, to see what they look like combined.
As you can see both sets are made up of a series of bays, these are each connected together and can also be stacked. The bays act as the perfect display area for Stark's vast collection of suits. In the Hall of Armour set you get four suits plus brick-built Igor and the Armoury features two suits. But there are plenty of additional spaces empty to add further suits. Most of those in the Hall of Armour are blank, with the upcoming set having spaces for two suits found in other current Avengers sets.
You can either add the bays from both sets together side by side or stack them, there are plenty of ways to configure the two sets to create a cooler looking take on Tony's workshop. You can either just pop one set on top of the other or split it up a little more to even things a little better. You don't really need to add anything to create a larger workshop, all I had to change was flip the suit blueprint screens of the Hall of Armour set as they are mounted the opposite way compared to the new set. Plus remove a few barriers, I even tried adding in a couple of extra suits and a certain SHIELD agent.
The Hall of Armour set is still available from LEGO.com and most LEGO retailers, and you'll be able to pick up the new Iron Man Armoury from Saturday. You can be as creative as you want, combining more than two sets to create an even more impressive LEGO take on Stark's workshop.
76125: Hall of Armour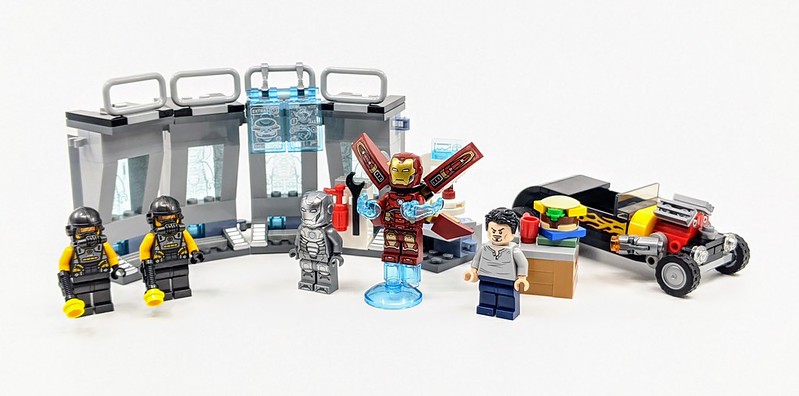 Coming August 1st: UKIrelandUSCanadaGermanyDenmarkAustraliaNew Zealand
76167: Iron Man Armoury
Available Now: UKIrelandUSCanadaGermanyDenmarkAustraliaNew Zealand
By clicking on affiliate links within this article, BricksFanz.com may earn a small commission. This in no way influences our opinions or shapes the content we cover.